Vulcan Insight
European Commission presents draft Brexit negotiating directives
The European Commission's chief Brexit negotiator, Michel Barnier, on Monday 3 February, presented the EU's draft negotiating directives. The draft mandate will now have to be approved by EU Affairs Ministers on 25 February.
On the first full working day since the United Kingdom officially withdrew from the European Union, the European Commission adopted the EU's draft negotiating directives for the upcoming negotiations on the future EU-UK relationship. Pending any amendments by member states, the draft directives will now be adopted by the General Affairs Council paving the way for negotiations to begin as of March.
Following the UK's withdrawal, the European Commission, on behalf of the EU27 and the European Parliament, and the UK Government will have to conclude a future relationship by 31 December 2020, unless the UK Government requests an extension of the negotiating period for up to 1 or 2 years. Such a request has to be made by 1 July at the latest.
Promising no surprises, Mr. Barnier commented that the directives are based on the European Council's recent Brexit guidelines, the agreed Joint Political Declaration and ongoing discussions with the European Parliament's Brexit Steering Group. Doubling down on previous comments by EU leaders, the EU's chief negotiator added that the EU aimed for an ambitious partnership with the UK, but that this would be dependent on UK choices and, by virtue, would be substantially worse than EU membership.
While the EU27 accepts that there would be competition, reaching a comprehensive free-trade agreement on goods and services with zero tariffs and zero quotas would be conditional on "at least two key points:"
Ensuring an open and fair competitive level-playing field;
Reaching an agreement on reciprocal access to each other's fishing waters
By setting clear conditionality on the above points, the Commission is effectively tying post-Brexit relations on the UK committing, legally and in domestic law, to remain aligned to EU law on social, environmental, climate, tax and state aid matters as well as opening UK waters to EU fishing fleets – something Johnson and his supporters have vowed not to do.
It is however crucial to understand that, irrespective of whether the EU and UK reach a 'best-in-class' agreement, the fact that there would be two sperate rather one single market would bring with it substantial barriers to trade in goods and services. In effect, irrespective of a post-2021 free-trade agreement:
Rules of origin and customs formalities will apply on goods traded between the UK and the EU;
Access to the EU market will be subject to certification and market authorisation and supervision activities; and
There will be no harmonisation or mutual recognition of rules such as equivalence or adequacy decisions.
Not only does this mean that all goods imported, or services supplied in the EU will have to undergo EU regulatory checks and comply with EU regulatory standards, but also that UK businesses will lose their automatic right to access the EU's internal market and service EU businesses. This will mean, for example, that UK financial services suppliers, such as financial institutions or FinTech companies, will no longer have passporting rights. Similarly, the UK will not automatically be granted a much-coveted data adequacy ruling until it sets up an adequate data protection mechanism.
In fact, both equivalence and adequacy decisions are specifically excluded from the Commission's draft directives as they are unilateral EU decisions and will, most likely, be used as bargaining chips throughout the negotiations.
The EU's insistence on the UK applying EU data standards highlights just one of the numerous upcoming flashpoints between Michel Barnier's team and Boris Johnson, who has vowed that the UK will not have regulatory alignment and will instead develop its own 'sovereign' data protection regime.
For negotiations to begin in earnest in March, EU Affairs Ministers will have to sign off on the Mr. Barnier's proposal on 25 February. This will then give negotiators about 7 months to work out a future relations agreement as approximately 6-8 weeks will be required for the EU's ratification process.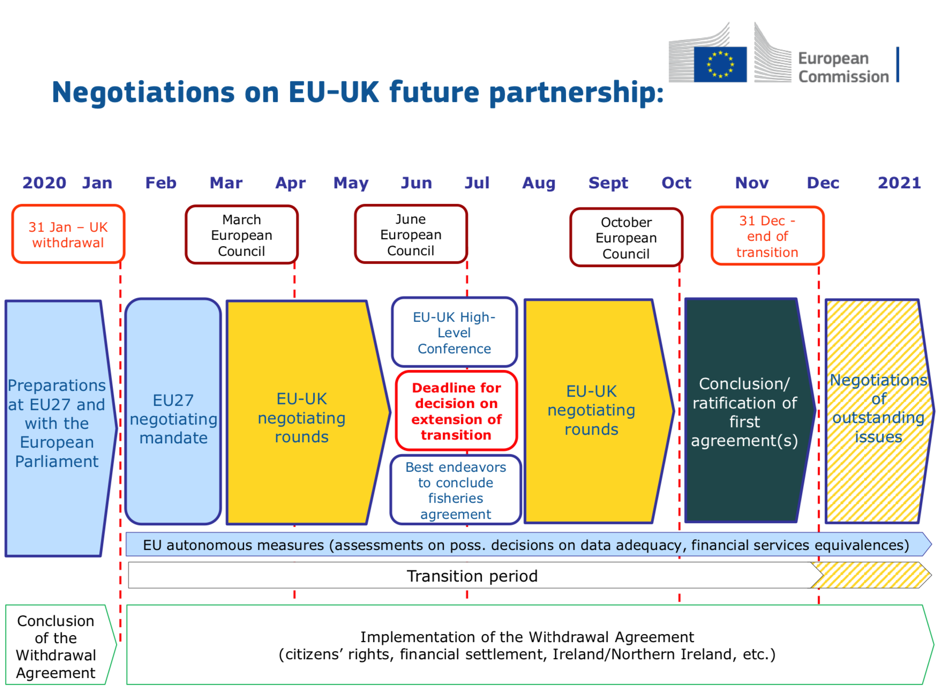 ---